Another Cape Cod Residence
Residence WD: An aboveground fuel oil tank beneath a house crawlspace was removed for preventive maintenance reasons. During removal, the tank, which was in very poor condition by the evidence of rust and by the fuel oil odor, leaked fuel oil. The tank had been leaking for an undetermined period, and the amount leaked was not known. Some soil was removed from the area under the tank and a recovery well was installed. The removal of any contaminated soil was prohibited due to the potential to undermine the structural integrity of the foundation. A monitoring well placed outside the foundation adjacent to the oil tank had free product on the water table.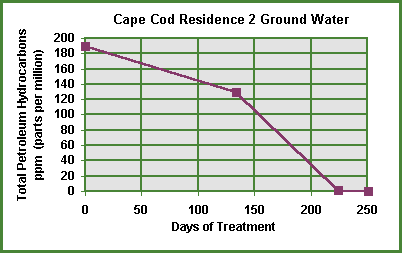 The soil in the bottom of the excavation was analyzed using ASTM D-3378 method, a Gas Chromatograph/ Flame Ionization Detection (GC/FID) method. The soil Total Petroleum Hydrocarbon concentration at 4' subsurface was 23,000 ppm. The groundwater from the monitoring well which was installed in the tank grave was also sampled and analyzed using the GC/FID method. The TPH concentration was 170 ppm in the dissolved phase since there was over one inch of free product standing in the well. A competing design was proposed with a pump and treat system installed and operating for an estimated four years for over $140,000.
Terrane Remediation analyzed the groundwater microbial population and designed a modified pump and treat system with free product recovery. The bioremediation treatment was initiated and 190 days later the groundwater and the soil reached a Method One Response Action Outcome.
---
---